February 27th, 2011
---
03:42 pm - Writer's Block: Art imitating life
Children of Men, or Pan's Labyrinth.

June 21st, 2009
---
August 14th, 2008
---
11:57 pm - this is all I got, folks...
This commerical, which usually aired during Wonderama!, was one of the highlights of my childhood weekends, beyond singing in folk Mass. How much do I dig the shameless E.T. bandwagoneering [note the wily substitution of "celestial person" for "extra-terrestrial"], the cruddy special effects, and the tinny, neo-futuristic brogue of seasonal delicacy Cookie O' Puss? Fudgie the Whale can spout off all he wants (yuk yuk) but HE never inspired the Beastie Boys to sing his praises while sampling their own prank calls to Carvel:

http://www.youtube.com/watch?v=3urwTGqxwZ0

Where has YouTube been all my fuckin' life?

June 26th, 2008
---
02:55 pm - a mighty cyclone hat
a mighty cyclone hat, originally uploaded by themechanism.
More Mermaid Parade pics to come...
January 25th, 2008
---
01:56 pm
Still computerless at home.
Wah.

January 5th, 2008
---
01:33 pm
Happy, happy birthday to the amazingbeautifulkindandtalented
beelzebabe!!!

December 31st, 2007
---
11:56 am - Riding My Own Coattails: A Very "Special" Christmas
As promised, here is the yuletide-themed Muppet extravaganza I drew when I was 10, courtesy of
mister_punchy who is now in possession of the original. I can't very well explain why I changed the Polar Bear Hunt sign from "7th Annual" to "16th Annual" on the second draft and made the grisly inclusion of slaughtered bear carcasses, or why the disembodied rifle is firing bullets at Fozzie (it got cut off, but the shotgun is floating in mid-air), or why exactly Henry Winkler is making a cameo, except that my razor-sharp fifth-grader wit was attempting droll wordplay with "Fozzie" and "Fonzie". There also seems to be a suspension in logic that Gonzo's main squeeze Camilla would somehow be safe from the Swedish Chef's clutches if she only provided written proof that she was a chicken and not a goose. But I love the earnest incongruity of Scooter gazing reverently up at the Star of Bethlehem, which I can only assume has four sides instead of five because Animal devoured part of it.

Also, I only just noticed that Statler is groping Fozzie's scrotal region in the first version. Comments are welcome.

SIDE ONE:



SIDE TWO: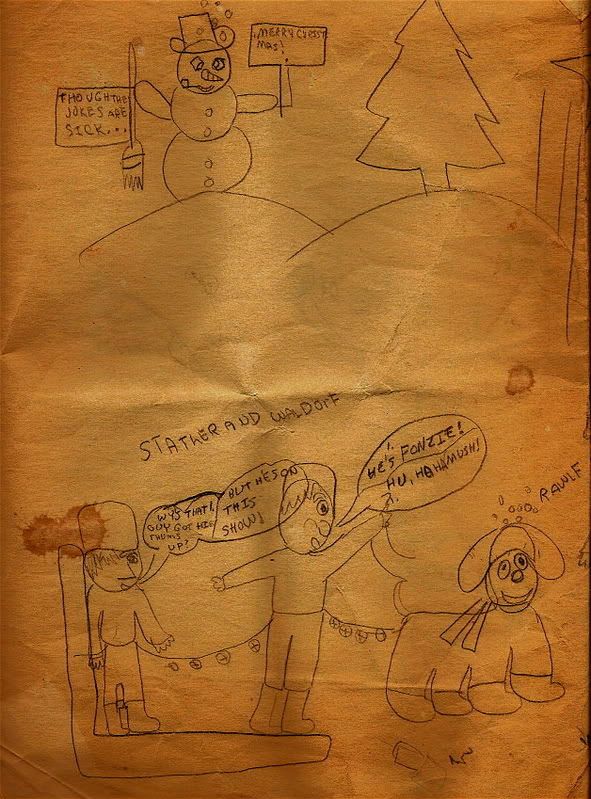 Current Mood: highly amused

November 6th, 2007
---
10:31 am - And I feel it's a long way down....
I leave for Barcelona in two days.
Holy shit.



Current Music: Rufus Wainwright, "Barcelona"

October 6th, 2007
---
05:40 pm - i am the chronically masturbating walrus. goo goo goo joob.
This completely true story was on the FRONT PAGE of the print edition of a local free weekly--"Dad Still a Self-Lover" naturally caught my one-track eye [Note: the headline did not include the word "Walrus" unlike the online version, thus giving me even less context upon first glance], but I honestly couldn't tell if it was satire until I researched it extensively:

http://www.brooklynpaper.com/stories/30/39/30_39thewalrus.html

A special prize goes to the person who can come up with the best alternate headline!

By the way, you can cast your vote to name the tusky little tyke (who, evidently, is already following in his pop's self-pleasuring flippersteps at only three months!) via the Today show website. Except for the renegade reporter at The Brooklyn Paper, the media is collectively keeping the "Daddy likes to compulsively beat off" element of this white-hot news item tightly under wraps.
Current Mood: highly amused

October 2nd, 2007
---
09:21 am - ANOTHER POINTLESS LIST!
My 5 most crushworthy cinematic characters (in no particular order):

--Nino Quincampoix in Amelie (need I explain?):




--Willy Wonka (looking really rather Puppetmasteresque in this photo; the similarities do not end there, come to think of it) in the ORIGINAL Willy Wonka and the Chocolate Factory:




--Max Fischer in Rushmore (I am quite surprised that he's the only four-eyed dude to grace this list; Lennon wasn't sporting the iconic specs yet):




--Han Solo (as you can plainly see from my choices above, I don't normally like 'em this rugged or roguish, but let's face it, Han is irresistible. He also looks smashing in a vest):




--TIE: John Lennon as himself in A Hard Day's Night:




....and Tim Canterbury in the British Office (not technically a cinematic character, but he belongs on the list nonetheless):




That is, until they make a film version of The Amazing Adventures of Kavalier & Clay and cast my favourite hot actor Adrien Brody as my most crushworthy literary character Joe Kavalier (even though he's really too old for the part). Holden Caulfield is seriously high on that list too, of course, but I can't think of any young actor who could ever properly bring him to life.

EDIT: Hey, as long as I'm including TV characters (and inappropriately young boys), HOW could I leave Brian Krakow from My So-Called Life off the list?




--Ahem. AND. I'm literally old enough to be his mum, but I also have a mildly oogey thing for Neville Longbottom in the Harry Potter series. He studies herbology, and the boy's got a beautiful overbite:





A few ladiez also worth mentioning:

--Patricia Franchini (yes, her character's a backstabbing femme fatale in a boatneck, but she's JUST.SO.FUCKING.BEAUTIFUL.) in Breathless:




--Anais Nin in Henry & June (OK, once again she is NOT an admirable character, which leads me to realize I'm objectifying the women--but frankly it's hard not to when they look like this:





--Any takers?